Fall Hunting Season
AT THE FARM
White-tailed deer are known as a "keystone species" in the environment because of the ability to effect change in both the plant and animal communities. Here at Christopher Farm and Gardens, we have firsthand seen the impact a large deer population can have on our environment. With over one-hundred acres of woodlands, prairies and ravines on the property, the farm provides extensive habitat for deer to flourish. Additionally, surrounding properties have large amount of acreage providing refuge for deer with little or no hunting pressure.
Deer populations left unchecked can have a tremendous negative impact on any environment. Environments are limited in their capacity to provide for wildlife. When populations exceed land capacity, abundance and diversity of plant communities inevitably suffers due to sizable feeding habits. Not only will plant-life be affected, other animal populations themselves lose food sources and habitat. Eventually, deer themselves can succumb to starvation and mortality when food sources dwindle.
We have seen firsthand the detrimental effect of unchecked deer populations here on the farm on our native habitat. Native tree seedlings are heavily browsed preventing the expansion of existing woodlands. Populations of spring ephemeral plants, already uncommon on our Wisconsin landscape, suffer from feeding. Flowering prairie plants dwindle which means less pollinator activity decreasing bio-diversity.
Eventually, these unchecked deer populations move into our botanical garden and feed on our trees, shrubs, and flowers. Not only does this defeat the purpose of our hard work, we are unable to provide visitors with the maximum sensory experience of coming to the farm. Additionally, replacement of plants is costly.
Preventative measures have taken on the garden property to prevent this destruction. We wrap heavy plastic netting around the trunks to discourage antler rubbing. Fencing is placed around very sensitive plant communities such as our conifer garden. Deer repellent is sprayed on species such as tulips and hostas. Even the farm dogs chase deer away when they can but this is only a temporary solution.
All of these measures help but here we use "perceptive hunting" as the primary tool to manage deer populations and to abide by our mission statement of "conservation and maintaining a healthy native landscape". Perceptive hunting, as stated by Aldo Leopold, is an understanding of our expanded role as we participate in the ecosystems as hunters. It is hands-on approach that promotes the belief that hunting should contribute to conservation and not hinder it. Simply put it means our control of the deer population benefits other wildlife and the ecosystem as a whole.
During the deer hunting season, we open the farm property to select ethical hunters. This is done by our farm manager, Mike Scharl, a highly experienced hunter himself. We observe all state and local hunting regulations and require all hunters to be mindful of others and the environment.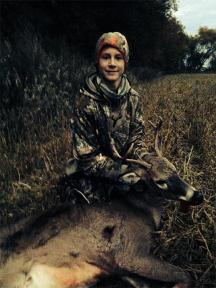 The Wisconsin deer hunting season begins with bow hunting in September followed by a 9-day gun season during Thanksgiving week and resumes with another bow season thru January. A special youth hunt early in the seasons allows youngsters to hunt with an adult mentor. During this year's youth hunt, all three young participants harvested their first buck. This program not only helps us with herd management, it helps foster a strong bond for families who hunt together and promotes Wisconsin's rich hunting tradition.
We are now also taking part in a program with the state to better monitor the health of our deer herd. Samples of deer tissue are submitted to the DNR for age and disease testing. Not only does this help us to know the current status of the Farm's herd, but this cooperation between the two groups helps the determine if diseases such as the CWD(chronic wasting disease) are present in our area.
The best hunting areas on the farm are the north and south ends of the property. Three redneck blinds are situated in these areas, elevating hunters 10 feet off the ground with a 360 degree view. These blinds accommodate two hunters at a time, and are so warm and comfortable, the challenge becomes staying awake to not miss out on the hunt. During a typical hunting season, about 20 deer are harvested, a mix of bucks and does. Even after the fall hunt, large herds of deer are still standing in open fields.
As stated in our mission statement, Christopher Farm and Garden is dedicated to the conservation of environment. By imploring a scientific approach to managing our deer herd, we are able to improve the health of all wildlife and ecosystems at the Farm.
Wisconsin hunting laws - http://dnr.wi.gov/topic/hunt/regulations.html
Wisconsin Mentor hunting laws -http://dnr.wi.gov/education/outdoorSkills/mentor.html
Wisconsin Deer hunting history -http://host.madison.com/sports/recreation/outdoors/outdoors-history-of-the-deer-hunt-in-wisconsin/article_309dbfae-8622-5352-9cda-af8cd2f6ac7c.html