Asian Water Garden
The Asian Water Garden reveals itself to visitors like a hidden treasure. Beyond rock-backed berms lies a quiet, secluded space beneath shade trees. Bamboo, grasses, ground cover and dense evergreens create lush layers of green. It's the perfect place for meditative relaxation and appreciation of beauty.
In this peaceful garden, gently flowing water, bamboo, Buddha statues, a teahouse and a waterfall create a tranquil space to observe nature. A cedar teahouse has a calming, woodsy aroma that circulates through its screened breezeway. Above the garden, a mosaic stone path created by Norma Schell and her children incorporates beautiful designs made with small colored rocks found along the Lake Michigan shoreline.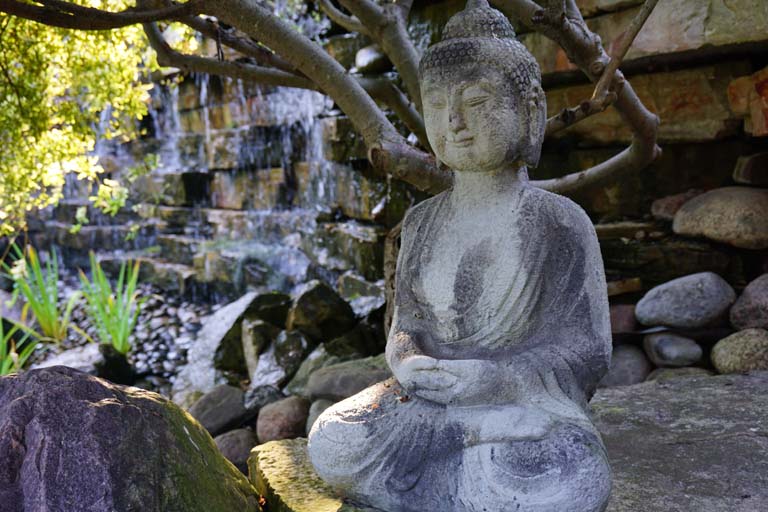 Eastern Spirituality
Symbolism abounds at our Asian garden. The Figures of Buddha are seen throughout the area, an iconic addition to Asian gardens, serving both as art and symbols of eastern spirituality. Water and stone exemplify the aspect of Yin-Yang, two complementary opposites.  Pagoda-shaped lighting is also a traditional design element. Antique Japanese chairs and other sculptures and décor add to the peacefully elegant ambiance.  Moss adheres to rocks and pebbles adding color and texture.  All these elements converge to create an environment of serenity and oneness.
View Gallery
---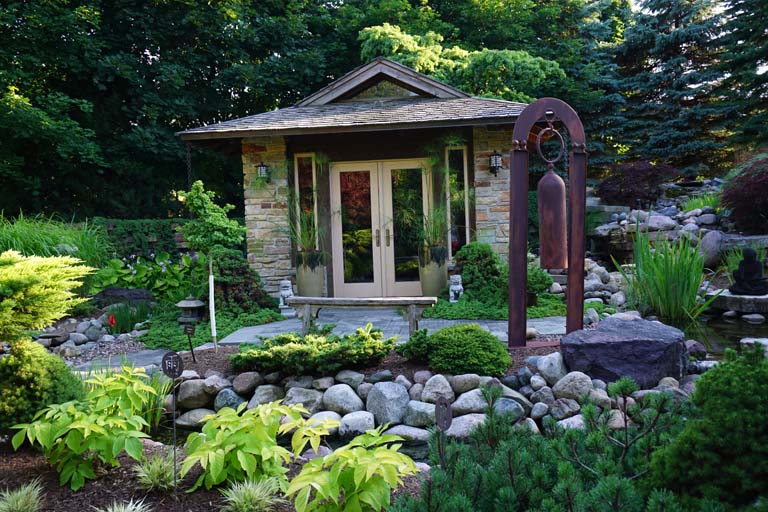 The Tea House offers a secluded place of quiet respite. Said to calm nerves and stimulate circulation, the woodsy, warm aromatic scent of cedar permeates the air of the little house, which is appointed with antique Japanese furniture. On special occasions, massage and reflexology therapists have conducted sessions in the tranquil little house.
View Gallery